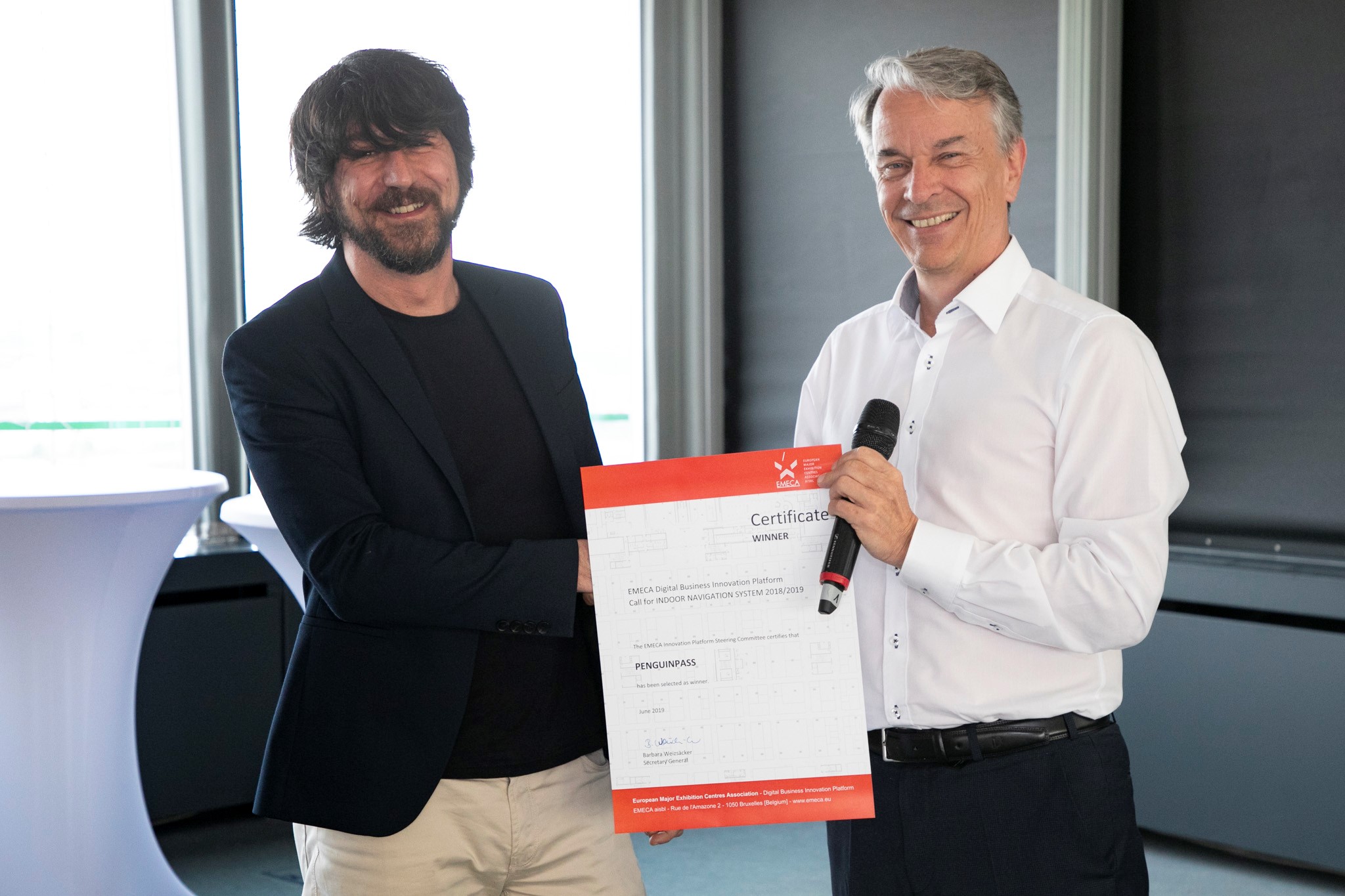 PENGUINPASS WINS THE EMECA DIGITAL BUSINESS INNOVATION PLATFORM – INDOOR NAVIGATION COMPETITION

"Penguinpass has been declared the winner of the Digital Business Innovation Platform – Indoor Navigation competition", announces Maurits van der Sluis, President of EMECA. "After careful evaluation, the C-level decision makers of the leading trade fair organisations in Europe have voted for the solution offered by Penguinpass".
During the General Assembly, taking place at Koelnmesse, the EMECA members confirmed their commitment to support innovative young entrepreneurs. Three companies – Cologne Intelligence, Penguinpass and Thinkin had been preselected to present their offers and technologies. Not only the winner, but also the two other solutions presented, stirred interest among the EMECA Mmmbers, so that several pilot projects may be conducted with all three companies to further explore the possibility to collaborate with the EMECA exhibition venues.
"We are really glad to have been able to present our concept here" confirms Pietro Allegretti, Founder of Penguipass. "Being a young company, every opportunity counts to launch the new product on the market and the potential collaboration with EMECA Members looks very promising!"
While Penguinpass uses its app to turn mobile devices into virtual beacons, thereby creating a grid that facilitates location-based information and services, Mobile Minds – Cologne Intelligence navigation system is based on visual data and includes a variety of additional services for trade fair visitors and exhibitors. In contrast, Thinkin works with Bluetooth Low Energy signals and antennas to create accurate location determination, tracking and real-time analytics.
"The three technologies improve visitors' trade show experience and create added value for exhibitors, exhibition organisers and venue operators," states Roland Bleinroth, EMECA Vice President Digital Business, "and this is what we were looking for when we launched this call."
All EMECA members are aware of the challenges start-ups and SMEs encounter when developing and investing into new products. A high share of exhibitors at European trade fairs are SMEs. "This is why the exhibition industry offers an ideal platform for presenting innovations, exchange insights on R&D and key industry trends and discuss developments impacting the economy, society and research" concludes Barbara Weizsäcker, EMECA Secretary General.
Download the media release here.
More information:
https://www.penguinpass.it/index_ENG.html
https://www.cologne-intelligence.de/augmented-reality-indoor-navigation/
Press and media contact
Ms. Barbara Weizsäcker, EMECA General Secretary
Rue de l'Amazone 2, B-1050 Brussels
Tel +32 25357250 – email: press@emeca.eu
About EMECA
The European Major Exhibition Centres Association EMECA unites 22 leading exhibition venues in Europe. The 22 EMECA venues organise around 1,800 exhibitions a year with nearly 410,000 exhibitors and more than 40 million visitors on a gross rented display area of over 37 million square meters.