GLOBAL EXHIBITIONS DAY

The Global Exhibitions Day has been set up to increase the visibility of the Exhibition Industry regionally and globally. GED celebrates the trade fair and exhibition business and highlights the benefits and effects it generates. Each year, thousands of members of the industry take actions to promote trade fairs and exhibitions. 
Global Exhibitions Day is held annually on the first Wednesday of June. GED2022 is therefore set to be celebrated on 1st June 2022!
GLOBAL EXHIBITIONS DAY 2022

The 2022 Global Exhibitions Day highlights the irreplaceable value of physical exhibitions and face-to-face business events in creating platforms
for economic growth and recovery, as well as being the perfect occasion to network and meet new people. Meeting in person creates trust, the basis for co-operations and business deals. Exhibitions are an effective and sustainable way of doing business, especially for SMEs.
As an association uniting the large and leading exhibition and meeting venues in Europe, we the stress the impact of exhibitions on local economies – both in building businesses and connecting people from around the world.
As COVID-19 restrictions have ended, the industry anticipates a strong and quick recovery, despite new uncertainties and challenges.
As an industry, we know and have proven that we can operate business events safely.
Exhibitions contribute to a sustainable world as they can reduce multiple travel, have the power to change patterns of consumption and behaviour. Venues and organisers place emphasis on social responsibility and have demonstrated their commitment to having a positive impact on local communities. The "net zero carbon events" initiative paves the way to carbon neutrality.
Last but not least, our enthusiastic workforce drive this business: exhibitions offer a variety of career opportunities in a vibrant industry. We offer a fast-moving environment that empowers human contacts.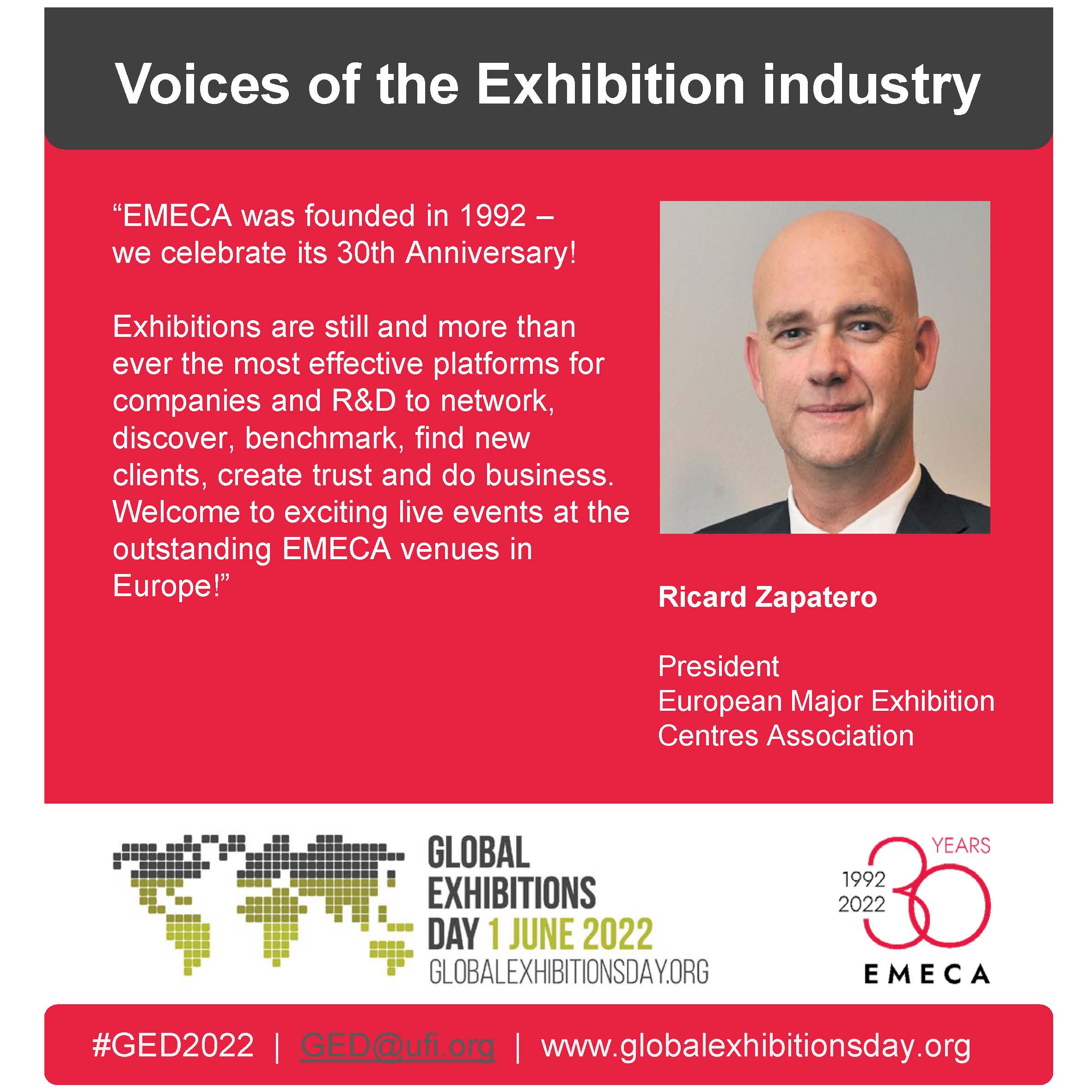 The global exhibition industry is of major economic importance
Exhibitions, commonly referred to as trade shows or fairs, have a simple purpose:
bringing industries together to build community and create supply chain opportunities.
But the industry itself is not a simple one at all: with over €493 ($551) billion in business sales for attendees, exhibitions have an incredible impact on our global economy.
In addition, expenses of visitors and exhibitors generate a total impact of €299 ($334) billion for both the value chain of the exhibition industry (organisers, venues and service providers) and the tourism related activities (accommodation, food and travel).
Trade shows have developed into far more than booths displaying product—they have become marketplaces amplified by educational opportunities, innovation launches, and data-driven qualified lead retrieval opportunities, supported by social networking activities that unite valuable digital progress with the now-yearned-for magic of interpersonal connection.
3.4 million total jobs are directly and indirectly supported by exhibitions.
GLOBAL EXHIBITIONS DAY 2021
Our message for GED 2021: Exhibitions are the key instrument to implement and accelerate transformation towards sustainable and digital economies!
On the occasion of this year's Global Exhibitions Day, we discussed the state of our industry in Europe at this point of the pandemic, the perspectives for reopening & restarting and explore opportunities for the mid and long term with Eric Philippart from the European Commission. Testimonials from several countries and subsectors of the exhibition industry provided an overview and named the most pressing issues.
You can watch the full video of the discussion here.
On GED 2021 European Exhibition Idustry Alliance publishes a new Position Paper: 
The European Exhibition Industry
- welcomes the EU Digital Covid Certificate and urges all European countries to restore and maintain safe travel for business purposes at any time 
- calls for recognising and involving trade fairs and other professional events as the key instrument for green and digital transformation of all industries
You can download the Position Paper here.