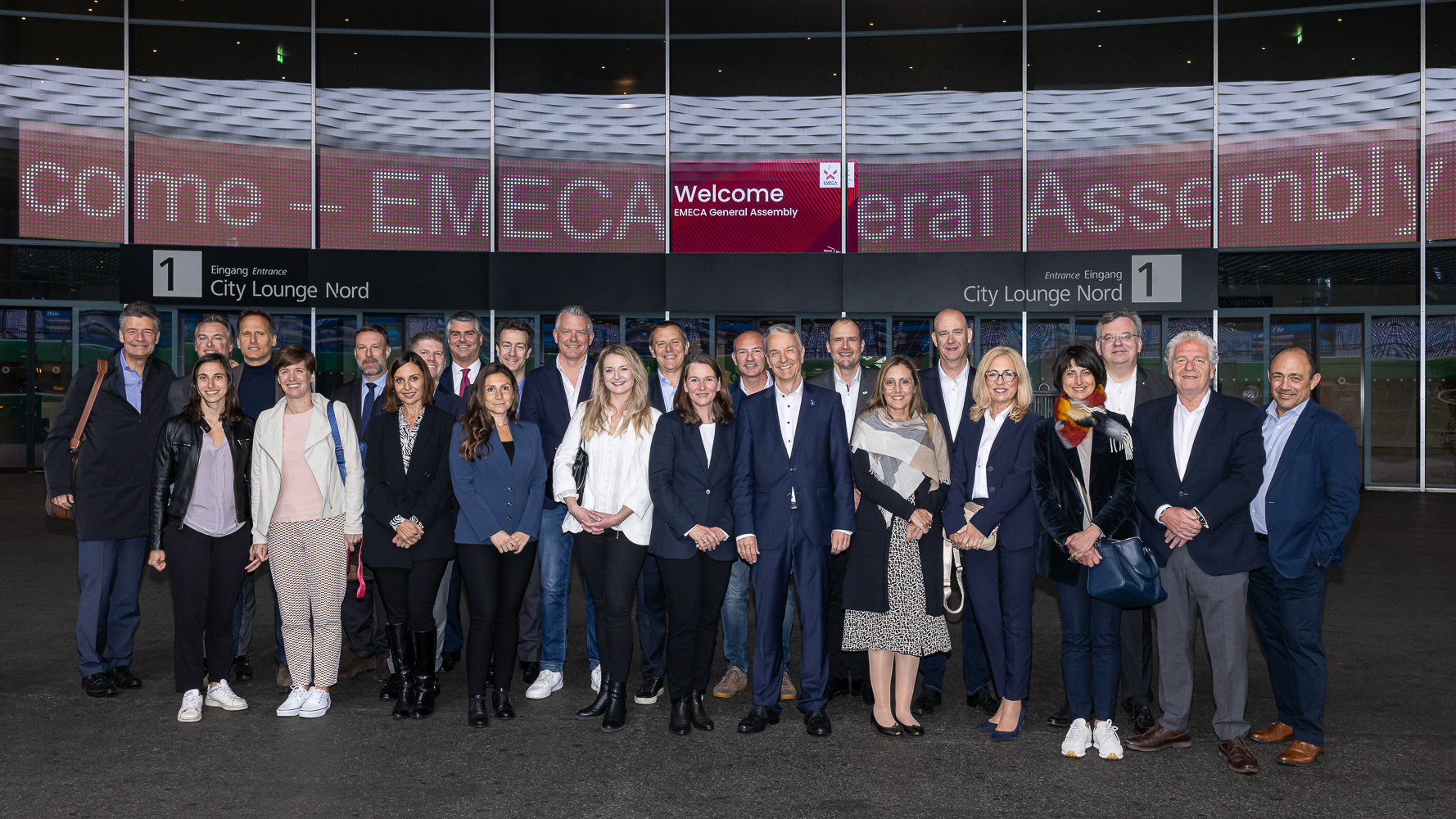 EMECA GENERAL ASSEMBLY CELEBRATED AT MCH IN BASEL, SWITZERLAND
EMECA Members' activity reaches pre-pandemic level, multiple challenges remain
The National Outdoor Expo 2022 launched at NEC Birmingham wins BELA Award
EMECA supports Net Zero Carbon Events as Gold Sponsor

The EMECA Members met at the premises of MCH in Basel for its spring General Assembly. "We see a very positive trend with a strong performance of nearly all EMECA Members in 2022 and 2023. All venues are back on track in terms of exhibitions and events reaching 2019 levels or better, with just a few not yet fully recovered, mainly due to a later reopening date", explains Roland Bleinroth, EMECA President.
Multiple challenges remain in the fields of energy and service prices, staff shortage, talent attraction and staff retention. At the same time, all Members improve their offerings with more and better services and numerous trade show innovations. Subsequently, the number of new shows launched and planned is impressive, in all sectors, own and guest shows as well as B2B and B2C events. The activity worldwide has picked up again, too, especially in Asia after its only recent opening. Chinese exhibitors and visitors start coming back to Europe, an important factor for many exhibitions. Everywhere, investments are launched again, especially into sustainable energy supply and a more sustainable organisation of events.
EMECA has awarded Raccoon Media Group (UK) the "BELA 2023" - Best Exhibition Launch Award - for its outstanding achievement with the National Outdoor Expo 2022 held at NEC Birmingham. In his laudatio Roland Bleinroth indicated: "The EMECA jury was impressed by how the community was built in a creative, inclusive and diverse way. The interactive activities implemented both inside the halls and outdoor went well beyond other similar industry events. We also appreciated the comprehensive sustainability measures, carbon footprint measuring and ambitious goal to be a net zero carbon event in 2025. The launch also is a role model for organiser-venue collaboration, we congratulate Raccoon Media Group as well as the NEC Birmingham on the success achieved."
The BELA Award was created on the occasion of EMECA's 30th Anniversary last year. The aim is to draw attention to new organisers, show themes and formats highlighting the innovation and attractiveness of the trade fairs industry. At the same time, EMECA intends to foster the resilience of the exhibition sector by showcasing examples of innovative approaches, the creation of new exhibitions and outstanding entrepreneurship. The BELA Award 2023 is given to the best first edition of an exhibition, B2B or B2C, launched at one of the EMECA venues in 2022. 13 submissions from 8 different venues in 5 countries were submitted to the competition.
In order to master the transition to carbon neutral and finally to net zero carbon events, EMECA is supporting the global Net Zero Carbon Events initiative as a Gold Sponsor. "It is crucial to work in a collaborative way within the entire exhibition and events industry on minimising our activity's impact on climate change. If we move forward in a coherent way we can strengthen our role model position: exhibitions are a crucial part of the solution as we provide the meeting and market places to work on solutions to the climate crisis", emphasises Roland Bleinroth.
Download the Press Release here.
Photo enclosed:
EMECA General Assembly
About EMECA
Before the pandemic, the EMECA Members hosted and organised nearly 2.000 trade fairs a year globally, out of which 1.550 in Europe on a gross rented space of nearly 38 million sqm. They welcomed nearly 500.000 exhibitors and roughly 38,5 million visitors in Europe.
Press and media contact
Ms Barbara Weizsäcker, EMECA General Secretary
Tel. +32 25357250
press@emeca.eu
www.emeca.eu